I came to Magulilwa Area Secondary School (MASS) with a lot more than my luggage. I brought along twelve laptops to contribute to the school's new computer lab. 
By air, asphalt, and dirt road
, I eventually made it out to the open, hillside campus.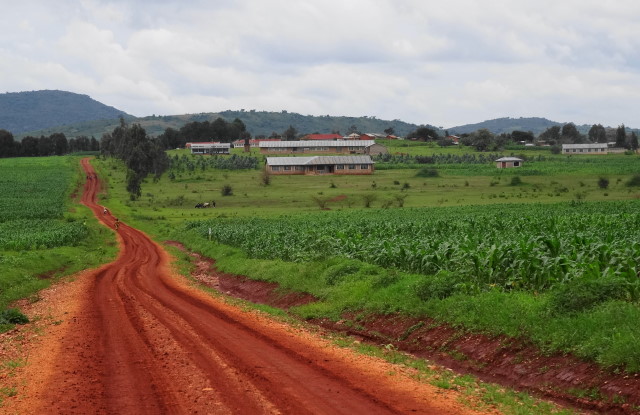 Within, scores of green-clad students walked about the dirt paths to and from the various destinations dotting the grounds: dorms, dining hall, classrooms. One building was not yet a destination for students, but construction workers. It was the almost-completed roughly 25' x 50' computer lab being erected adjacent to the Science Building. By January 27, 2014, the skeleton and body of the structure were built. What it yet needed was some "clothes": windows, doors, electrical outlets, and paint.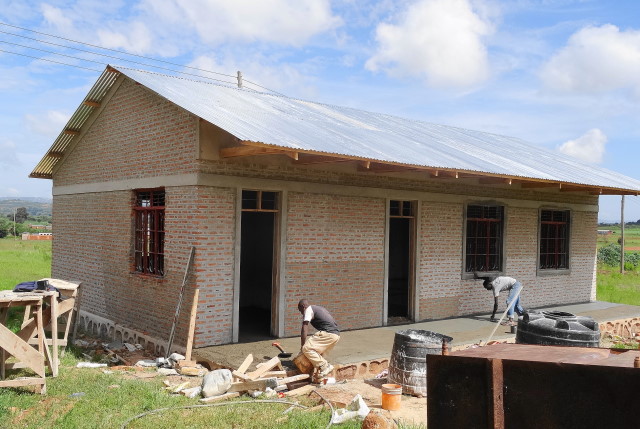 For now, the laptops had to go in the temporary lab space, a large office wherein two faculty—Mr. Ngailo and Mr. Calin—had to scoot their desks to the corners in order to make room for the computers. Along with the laptops I brought were ten donated, brand-new desktops set up on freshly-hand-made, individual computer desks. We arranged most of the laptops on tables borrowed from another building. The last couple were set on stacks of large cardboard boxes. Magulilwa's first computer classes would take place here.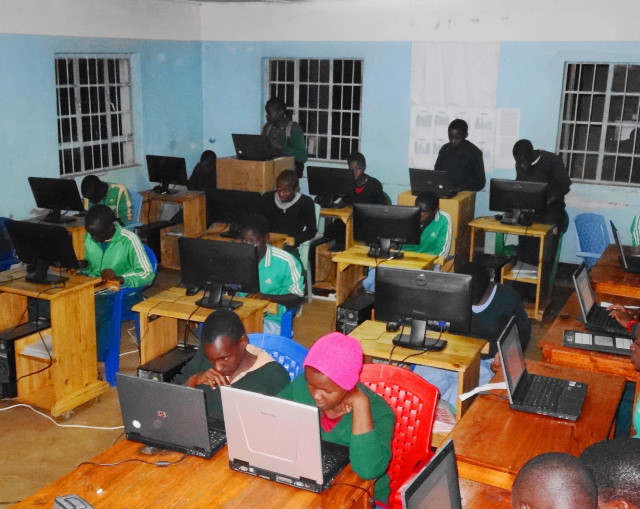 Most of the students hadn't touched a computer before. So we started from the beginning: turning on the machine, how to use a mouse, and how to type. You could say the students have since gotten off to a running start as I've had to remind (and even yell "stop") from time to time as some like to bolt into the room to get to their computer. Classes necessarily take place at night when the generator is turned on.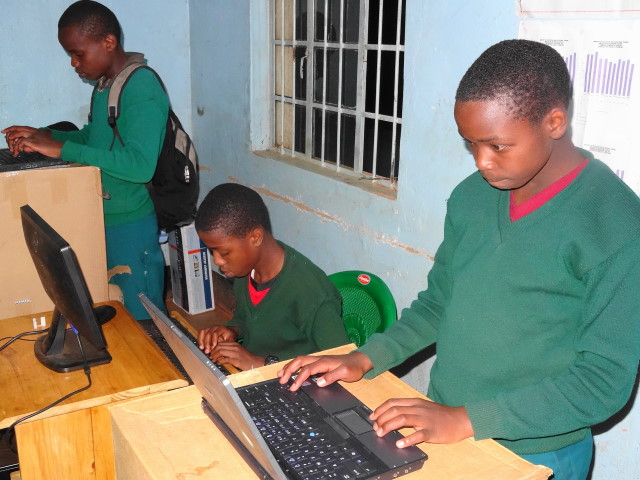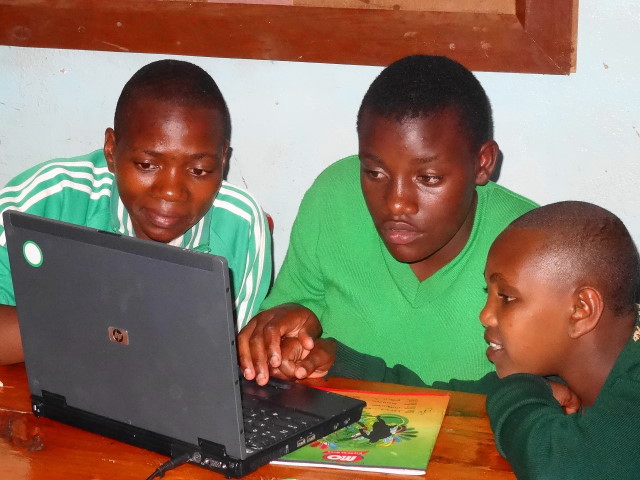 Mr. Ngailo and Mr. Chonya, the two others here who teach computers to Form One and Form Two students, are helping the Form Twos along.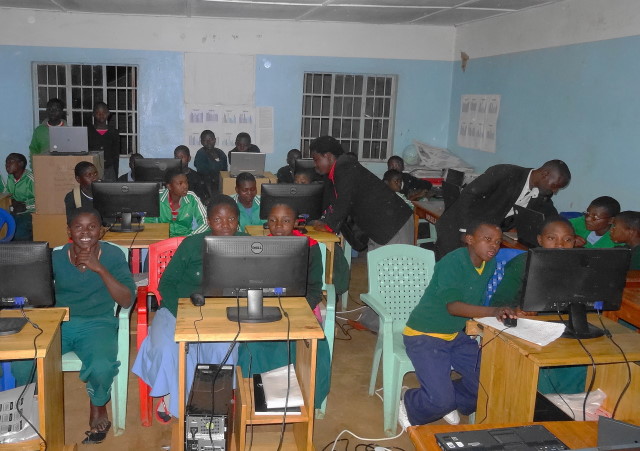 As of writing this article, we are now preparing for our first monthly exam to test the skills practiced and knowledge taught on keyboarding and Microsoft Word. ***
While these first classes
were being conducted, I'd check almost daily to see the workers' progress down the hill at the lab.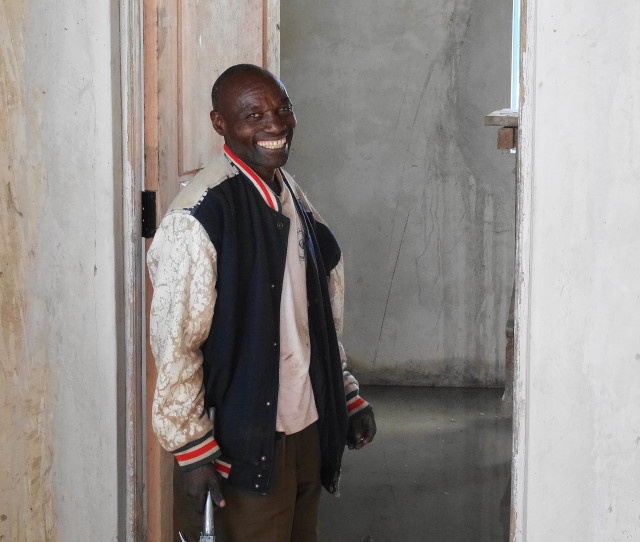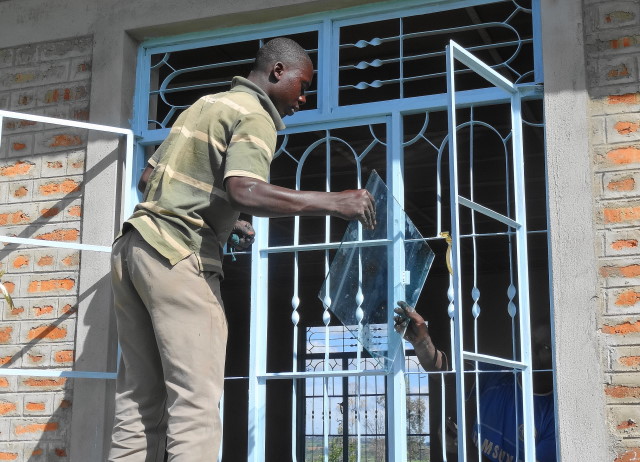 Some days, the differences on the lab building were subtle. Others, like painting day, offered a sudden transformation.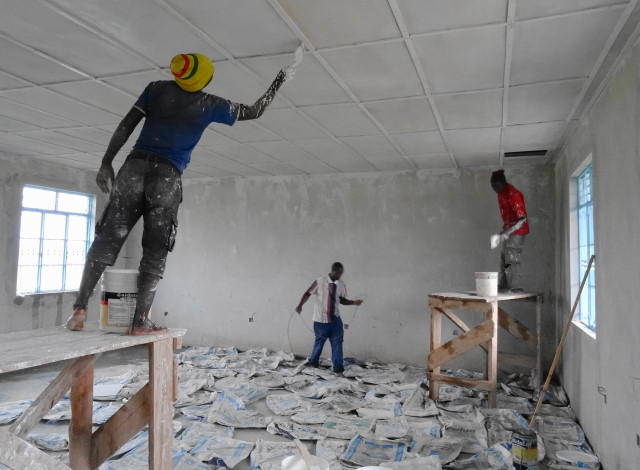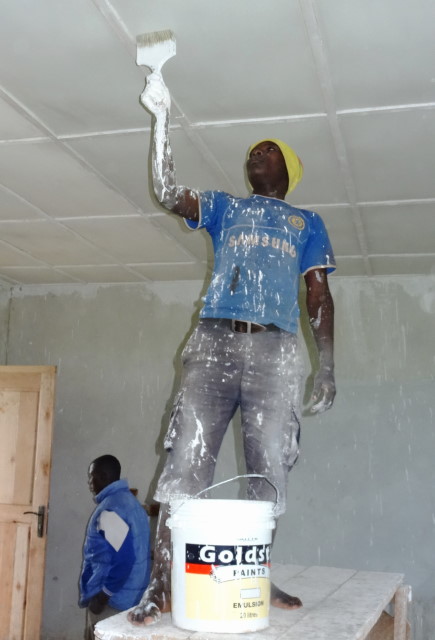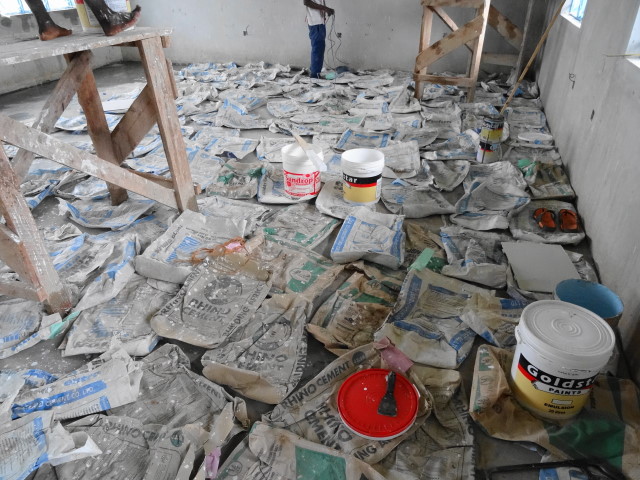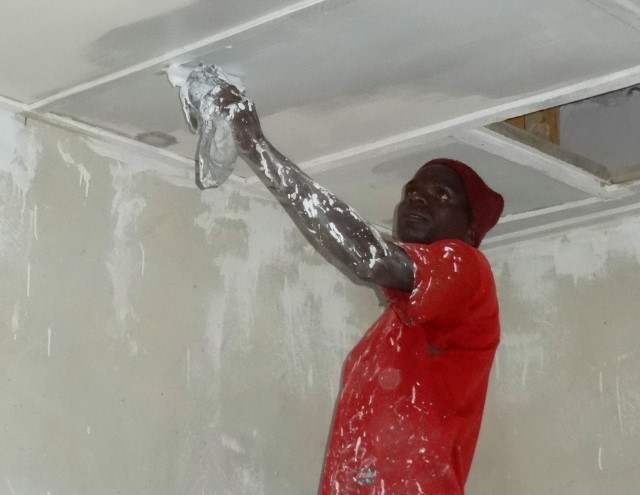 About three weeks after I arrived, I received word that the doors, windows, electricity, and painting were completed. And about a week after that, we got the okay to start moving the computers inside. On Wednesday, February 26, faculty and students helped with the move. First, Form One boys were recruited from Mr. Chonya's class to do the heavy lifting.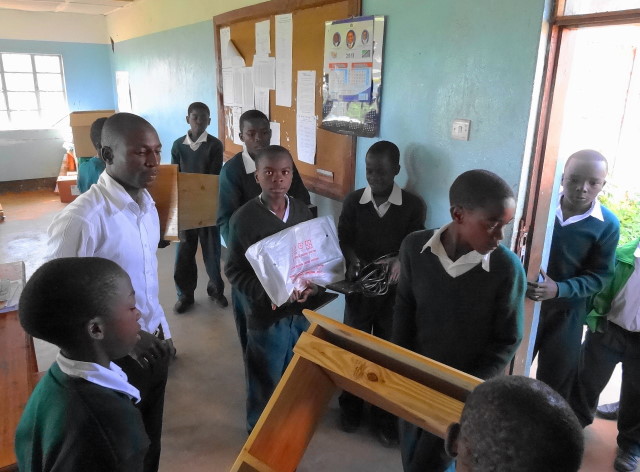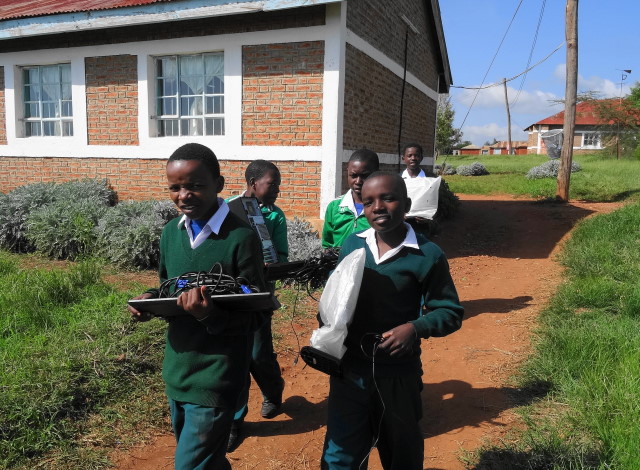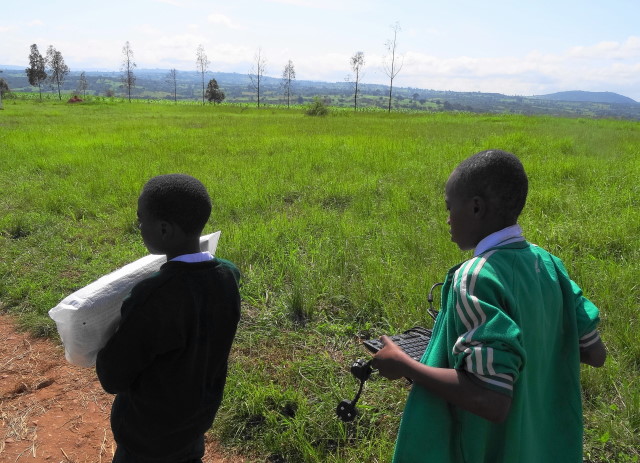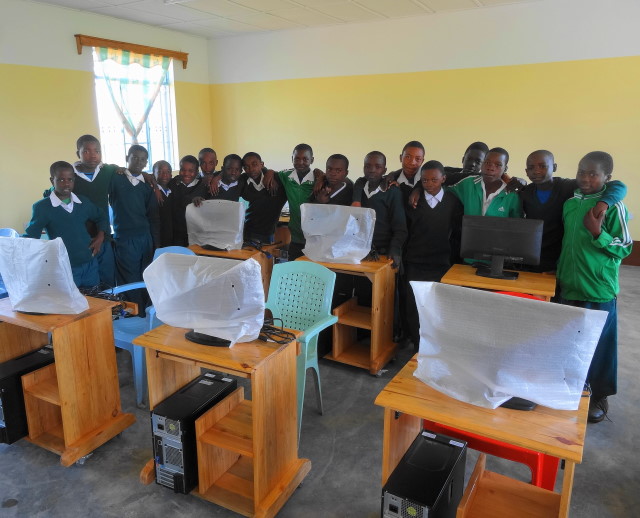 Then, Form Two students came and helped hook them up.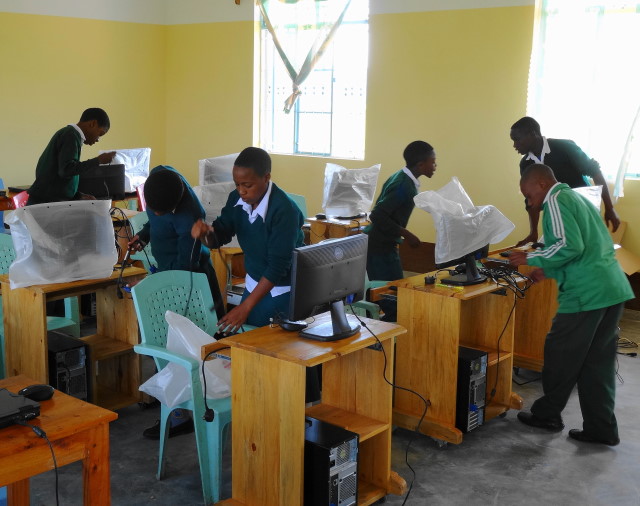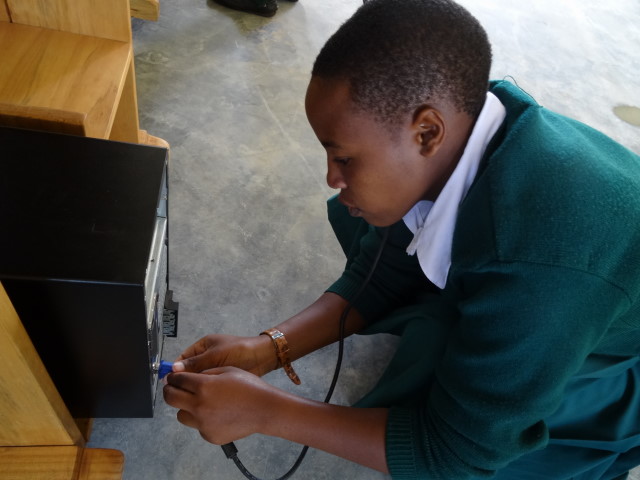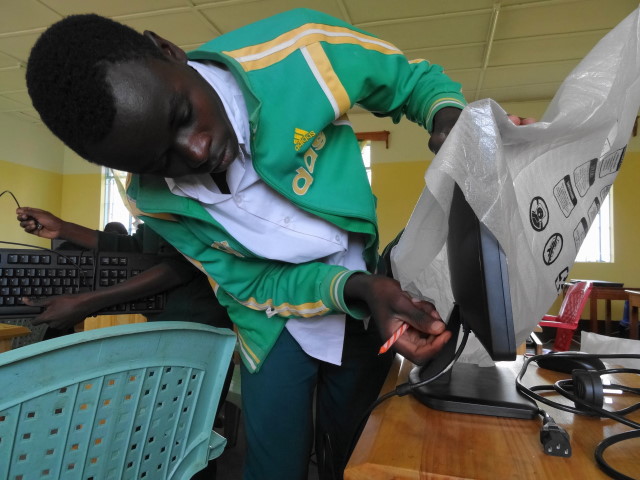 From clearing out a packed room where students had to dodge cords, computers, desks, and each other, we filled this new empty space with the food to nourish the growth and learning to occur within. And it started this very night with my class of Form 2A students.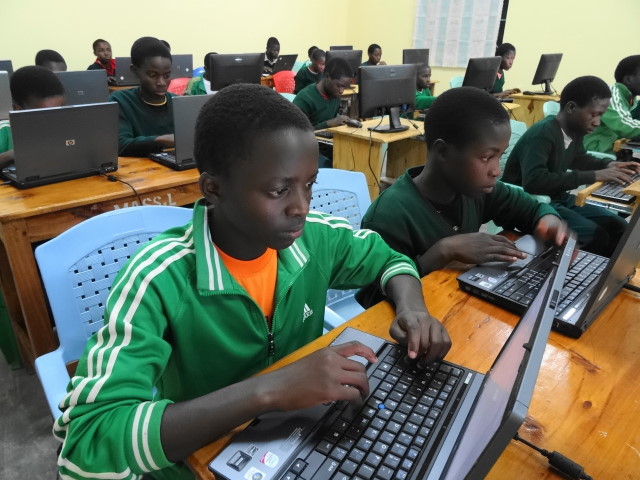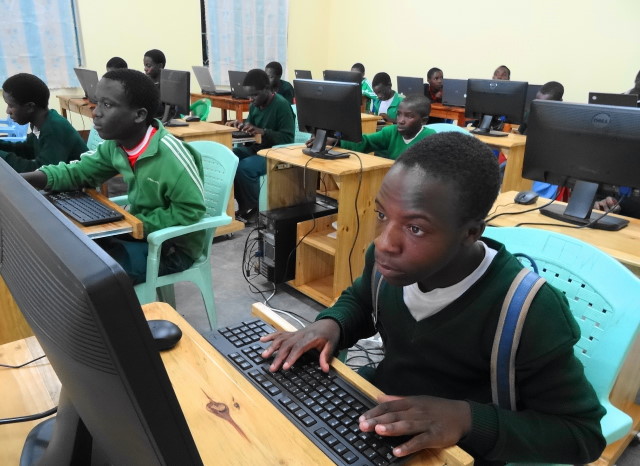 Thank you.
Thank you so much for the donations for this crucial, opportunity-giving, world-expanding feature at Magulilwa Area Secondary School. ***
Already in the month I've been here
, I've taught the students how to operate the computers and type a given assignment independently. Those that do have some computer knowledge are using this chance to further their skills by helping their fellow pupils along. Even without high speed Internet at the school—something we are working on getting—we are realizing the "world-expanding" potential of the new computer program. I started an email pen pal program between students here and those at Lake Harriet Middle School in southwest Minneapolis. As of February 24, thirty-six 8
th
graders in Minneapolis have received emails from thirty-six students in Tanzania. Their social studies teacher, Mr. John Wood, tells me that his students are excitedly writing back to their new friends from Africa. This is all just a start, but yet we can't overstate the impact this has already meant to these students—the impact you all have had to 200 young people here in central Tanzania. -Brandon Ferdig